Body Butter: Play
Play is a very personal handmade creation is inspired and blended by Tierra and her 5 year old niece! Spending memorable quality time together in the flourish factory the little voice cheerfully saying "we made a "lotion" auntie" lol will leave a forever imprint…. The custom scent is playful, vibrant, childish, sweet and delicious. The kids (and kids at heart) absolutely love this one. Imagine fresh bananas 🍌juicy grapes 🍇, kiwi 🥝, 🍭lollipops, and strawberries 🍓 and icecream cones 🍦
 This is how we PLAY! 
Each purchase of Play is directly deposited into my nieces account!

Tierra Goes Green infuses pure Avocado, Mango & Cocoa Butters with emollient rich Hemp seed oil, naturally healing Jojoba oil and nourishing Apricot oil to create a balancing skin treatment suitable for the every body. We want you to love yourself and add whole-body skincare to your daily routine intentionally. 
My careful blend of ingredients and natural oils helps:
● to retains moisture inside skin cells;
● to accelerate cell regeneration and rejuvenation;
● to restore skin elasticity and tone;
● to soften and add natural radiance;
Clean label
Tierra Goes Green Temple Treats are blended exclusively with 100% natural ORGANIC ingredients. This creation for the body doesn't contain any ingredients that might harm human health or the environment.
Free of:
Shea Butter
Nut Oils
Preservatives
Surfactants
Emulsifiers
Peptides
Emollients
Sulfites
Chemicals
Greenwashing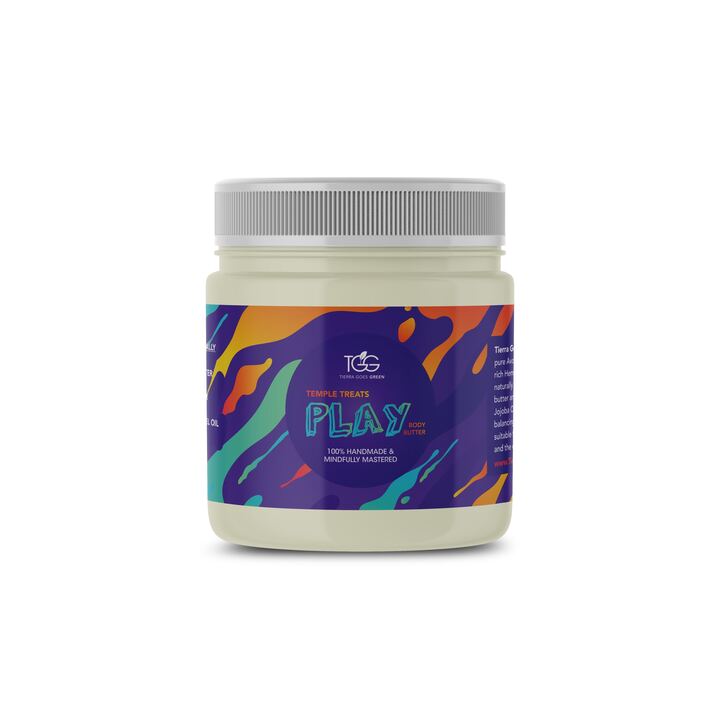 Body Butter: Play