Emergency Immune Support
Immune Support Vitamin C B & E Sambucol Black Elderberry Zinc Echinacea Garlic Turmeric Curcumin L-Glutamine Plus Probiotics, Gluten-Free Emergency Complex Booster System Supplement Adults Men & Women
. Give your immune system a boost with these antioxidant-packed supplements!
Ingredients
Vitamin C, Vitamin E, Vitamin B6, Zinc, L-Glutamine HCL, Elderberry Fruit Extract, Echinacea Powder, Garlic Powder, Tumeric 95% Curcuminoids, Lactobacilus acidophilus
Features & details
#1 Immune Booster With Top 10 Powerful Non-GMO + Super-Concentrated Ingredients: Are you struggling with seasonal bugs, colds, flus & infections? Nutrition is vital for immune function but sadly, we don't get enough through diet alone. Formulated with the best unmatched herbs, vitamins & nutrients, our proprietary all-natural formula strengthens immune support, reduces inflammation by promoting healthy pro-inflammatory cytokines and supports IgA & IgG to help fight bacteria, viruses & allergens.

American's Best Immune Support Supplement - NO Fillers, NO Binders & Gluten-Free: Did you know infections cause oxidative stress in the body? Oxidative damage is linked to inflammation and chronic conditions. These reactive oxygen species compromise the immune system. The only immunity complex in the market that is naturally rich in antioxidants, our best-selling formula acts at many levels to support your body's natural defence mechanisms, protect biomolecules and improve cold & flu symptoms.*

Made With Vitamin C, E, B6, Zinc, L-Glutamine, Elderberry, Echinacea, Garlic, Turmeric Curcumin, Probiotics & More: Our potent capsules contain the most clinically-researched super-concentrated extracts, vitamins, trace elements, herbs and probiotics shown to reverse immune decline in the elderly and strengthen overall immune function. The premium ingredients in our formula have been scientifically shown to enhance immune cell proliferation & functioning, boosting the production of antibodies.*

The ONLY Immune Supplement With 7.2 Billion CFU Probiotics & Made In USA: Our effective formula delivers the maximum strength of the highest quality immune-booster ingredients. Did you know 80% of your immune system is stored in the gut? A healthy gut helps fight harmful bacteria & promotes healthy immune function, cells & response. The most clinically studied probiotic strain, lactobacillus has been shown to improve microbiome diversity, immunity, allergies & resilience to infectious diseases.*

Maximum Potency 1679mg - 300% Vitamin C - 450mg Elderberry - 150mg 95% Curcuminoids - 300mg Echinacea For Superior Inflammation Support: Did you know only 10% of Americans get 100% of daily Vitamin C? Our formula delivers 300% DV of Vitamin C, shown to not only boost collagen production for beautiful hair, skin and nails, but also increase antioxidant activity, boost the activity of phagocytes and lymphocytes, immune cells that increase antibodies & attack harmful bacteria & pathogens.*
Disclaimer: Content on this site is for reference purposes and is not a substitute for advice from a licensed health-care professional. You should not rely solely on this content, and TGG assumes no liability for inaccuracies. Always read labels and directions before using a product. Statements regarding dietary supplements have not been evaluated by the FDA, and these products are not intended to diagnose, treat, cure, or prevent any disease or condition.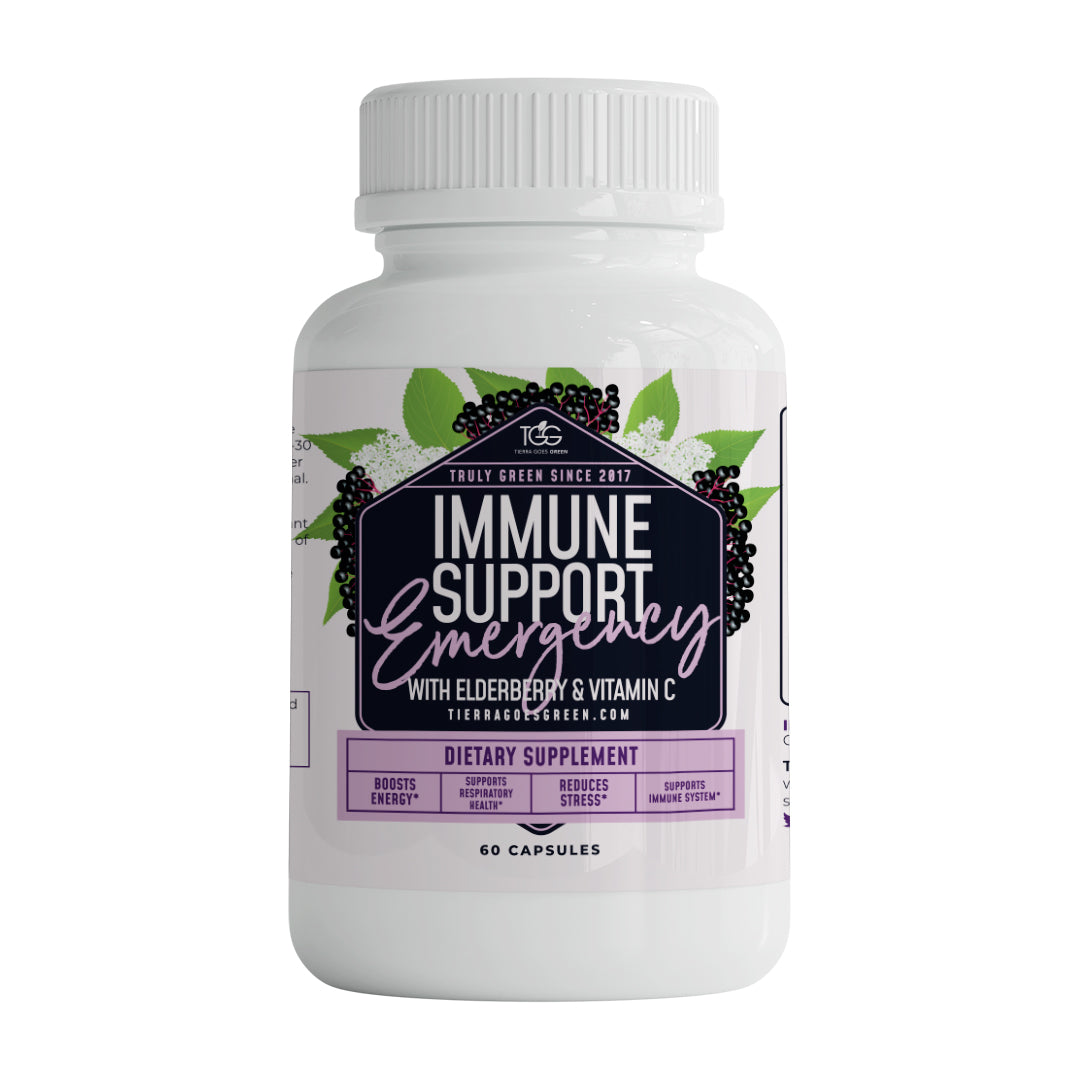 Emergency Immune Support